Transforming traditional tools
This year has taught us that we can all adapt to new things, whether we like it or not. I am incredibly grateful to our loyal, brave clients, and to our team for their remarkable efforts this year to keep things moving in a positive direction. Every time I think the world's problems are too big for one tiny business to tackle, I am uplifted by the strength and determination of the people who surround me.


Many of us are saying good riddance to 2020. I choose to say thank you 2020 for showing me that we have more courage, resilience, conviction, and kindness than we ever could have imagined.
I hope you will be able to take a well deserved break this holiday season and come back to work in January with unwavering optimism and confidence.
I certainly will.
Happy holidays,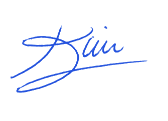 Going Digital: Demonstrating impact in a better way
Do saying the words "annual report" give you the literary equivalent of taking a sleeping pill? Is it the financials, the dry formal letters from the board, or the huge list of thank yous that go on for 10 pages? It is sad to say that the term "annual report" comes loaded with expectations - mostly ones of dread. Well it is time to change that mindset and what better way to do that then by changing things up a bit. Or maybe a lot.
Negar Haghighat
Strategic Planning and Governance

Negar is always looking for excellence. She applies her ethos to every project that she dedicates herself to, from advising new entrepreneurs to steering non-profit boards. Her keen interest in sharing more than 15 years of well-honed business acumen with the social sector makes her a highly valued asset in the creation of any strategic or governance plan.
Founder, Kim Fuller, has been recently appointed to the Chemins de transition's strategic direction committee, organized in collaboration with the University of Montreal and Espaces pour la Vie (Montreal's Biodome, Planetarium, Insectarium, and Botanical Gardens). This major initiative's aim is to engage the university community, alongside citizens and other social stakeholders, in a much needed debate to collectively identify the most promising directions to take for a sustainable future for Quebec.
Phil helped CPIVAS, a centre for the prevention and treatment of victims of sexual assault, relaunch their brand in honor of their 35th anniversary. Through the innovative use of graphics to highlight the concept of equality, their fresh new look now reflects the full scope of their mission. The big reveal was held online at their annual general to rave reviews. Check out their new website here.
Waskapitan means coming together in Atikamekw, and that is exactly what happened on the 3rd of December with the spontaneous mobilization of artists from all over Quebec that united to showcase Indigenous cultures and performers in the fight against racism. Phil was proud to be part of the promotion of the event through the creation of a compelling event website. Learn more about the event here.
Yes helps young people secure jobs or launch a new business in Quebec. This past year they offered over 300 workshops, helped to start or grow more than 500 businesses and worked with over 3,600 clients. To help them relay their impact through the best choice of content and layout, Phil provided creative and technical expertise to produce their annual report for 2019-2020. Take a look at the outcome here.
GivingTuesday Quebec successful rebranding
Phil made a sizable impact in spearheading the Quebec Civic Movement this year. By rebranding the GivingTuesday movement in Quebec from a mainly Montreal-based group to a province-wide group, #QuebecGives bolstered popularity across the region. Take a look at how this year's rebranding has harnessed the generosity of smaller, often more tightly knit communities. Quebec Civic Movement's partner list is available here.
We hope you take the opportunity
to rest and recharge this holiday season.
Wishing you all the best for 2021.
Stay safe, stay healthy, stay home!!

From our team to yours,
happy holidays.